Sunday School
Sunday School is offered during the school year from 9:30 am to 10:30 am. Classes tailored to all ages (children, youth, and adult) are provided.
Children's Church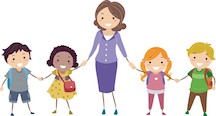 Singing, Bible stories, games and crafts for children from kindergarten through 5th grade. Meets during the second half of the Sunday worship service, directly after the Children's Sermon.
Bible Studies
Lenten Bible Study:
Each Wednesday during Lent, we gather at 6:30 pm for soup and fellowship in the Chapel. Study begins at 7:00 pm with Pastor John. All are invited. If you'd like to bring soup, see Kelly G. or Lecia R. for scheduling.
From September through June, Bible Studies are offered on Wednesday nights at 7:00 pm in the chapel (or via Zoom). Emails are sent to the congregation each week with details. To join by Zoom or phone call, please email the church office for the link: admin@firstbaptist-manlius.org
New, 6-Week Bible Study:
DON'T GIVE THE ENEMY A SEAT AT YOUR TABLE By Louie Giglio
Use QR code to sign up or ask questions
Wednesdays at 9:00 am in the Library (enter at the red door)
Please note that there will be no 9:00 am Bible study on February 22nd.
6 week study guide included
Study begins January 18th, but join us any time.
Vacation Bible School
Every summer, First Baptist Church of Manlius offers Vacation Bible School (VBS). Approximately 50 children from the community join us each year for a week of fun and faith.